"
We Just Decided To
" is the first episode of the
first season
and the series premiere. It was written by executive producer
Aaron Sorkin
and directed by
Greg Mottola
. It premiered on June 24, 2012 and drew 2.14 million viewers.
[1]
The episode introduces acclaimed news anchor Will McAvoy. In the aftermath of a public tirade, he returns to his job to find that most of his staff are leaving and his new executive producer is his ex-girlfriend, MacKenzie McHale. When some breaking news about a potentially disastrous oil spill in the Gulf of Mexico hits the network, the staff faces a new challenge. The episode takes place between early April of 2010 and April 20, 2010.
The bulk of this episode takes place on April 20, 2010.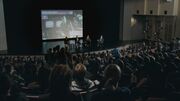 Popular Atlantic Cable News (ACN) anchor Will McAvoy shocks the audience at a college debate when he honestly and profanely explains why America is not the greatest country in the world.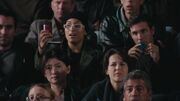 Recordings of the tirade spread across the internet and McAvoy's public profile is severely damaged. He takes a two week vacation to avoid publicity. His executive producer Don Keefer, his co-anchor and the majority of his staff eagerly take the opportunity to abandon his 21:00 News Night program for its 22:00 counterpart. ACN News Division Director Charlie Skinner is in the minority of people impressed by Will's candor. Skinner hires MacKenzie McHale as McAvoy's replacement Executive Producer.
She has a fractious past with McAvoy and Skinner notes that the last time that McAvoy was happy was when McHale was in his life. McAvoy is enraged at having the relationship forced upon him and renegotiates his contract to have the power to fire McHale, accepting a massive pay cut to obtain the privilege. She is undaunted by the precarious position and insists that she wants to restore the fourth estate to its glory days. He accepts her impassioned argument but claims to be unmoved.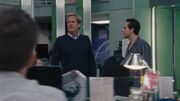 The remnants of McAvoy's depleted staff include his assistant Margaret Jordan and the marginalized writer of his blog Neal Sampat. McAvoy cannot recalls Jordan's name despite several reminders and is astounded that he even has a blog. Jordan is in the midst of a half-hearted relationship with Keefer and he urges her to abandon McAvoy while simultaneously refusing to meet her parents. McHale brings her longterm Senior Producer Jim Harper with her to News Night. He is aghast at having been thrust into such an uncertain role but remains supportive of McHale. McHale rewards Jordan's loyalty by promoting her to Associate Producer.
Harper catches wind of the British Petroleum (BP) Deep Horizon oil rig explosion through an associated press alert. Keefer, reluctantly seeing out a two week handover period, is dismissive of its significance. Harper insists on the story's importance and Sampat backs his prediction that the depth of the drilling will lead to problems stemming the leak and a massive oil spillage. His instinct is reinforced by shocking revelations about the cause of the explosion from insiders in both BP and their subcontractor Halliburton. BP are unsure of how to stop the leak. Halliburton apparently ignored failed test results for the substance they used to block the oil flow when the rig was due to be re-purposed. McAvoy agrees to run with the story necessitating a last minute revamp of the new teams first show. Rapid investigative journalism by Jordan reveals a drastic manpower shortage in the Minerals Management Service (MMS). The broadcast features telling interviews with a Halliburton spokesman, a statement from BP and a probing interview with the junior MMS engineer who last inspected the facility.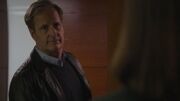 The show is a rousing success and Skinner is thrilled at the results of his machinations. McAvoy and McHale continue to clash throughout the broadcast and their conflict spills into the corridor afterwards. McAvoy admits that his rant was prompted by seeing what he thought was McHale in the crowd just as he enters an elevator. The door closes before McHale can admit that she was there. She considers chasing him but thinks better of it.
Production
Edit
| | | |
| --- | --- | --- |
| | Guest starring | Co-starring |
| | | |
| --- | --- | --- |
| | Opening credits | Closing credits |
Development
Edit
Entertainment Weekly reported in April 2009 that Sorkin, while still working on the screenplay for The Social Network, was contemplating a new TV drama about the behind-the-scenes events at a cable news program.[2] Sorkin was the series creator of Sports Night and Stdio 60 on the Sunset Strip, both shows depicting the off-camera happenings of fictional television programs.[3] Talks were reportedly ongoing between Sorkin and HBO since 2010.[4] In January 2011, Sorkin revealed the project on BBC News.[5]
To research the cable news world, Sorkin had been an off-camera guest at MSNBC's Countdown with Keith Olbermann in 2010 to observe the show's production and quizzed Parker Spitzer's staff when he was a guest on that show.[6] He also spent time shadowing Hardball with Chris Matthews as well as other programs on Fox News Channel and CNN.[7] Sorkin told TV Guide that he intended to take a less cynical view of the media: "They're going to be trying to do well in a context where it's very difficult to do well when there are commercial concerns and political concerns and corporate concerns."[8] Sorkin decided that rather than have his characters react to fictional news events as on his earlier series, The Newsroom would be set in the recent past and track real-world stories largely as they unfolded, in order to give a greater sense of realism.[9]
In January 2011, HBO ordered a pilot with the working title More as This Story Develops. The Social Network's Scott Rudin signed on as executive producer.[7] Rudin's only previous television work was the 1996 spinoff series Clueless.[7] By June, Jeff Daniels, Emily Mortimer, Sam Waterston, Olivia Munn, and Dev Patel were cast, while Greg Mottola had signed on to direct the pilot.[10][11] The pilot script was later reportedly obtained by several news outlets.[12]
On September 8, 2011, HBO ordered a full series starting with an initial 10-episode run with a premiere date set for summer 2012.[13][14][15]
Series title
Edit
While the pilot was in development, the project was tentatively titled More as This Story Develops.[16] On November 29, 2011, HBO filed for a trademark on "The Newsroom" with the U.S. Patent and Trademark Office.[17] The new name immediately drew comparisons with the Ken Finkleman-created Canadian comedy series of the same name that aired on CBC and public television stations in the U.S.[17][18] The series' name was confirmed as The Newsroom in an HBO promo released on December 21, 2011, previewing its programs for 2012.[19]
Writing in Maclean's, Jaime Weinman said the choice of name was "a bit of a grimly amusing reminder that the U.S. TV industry doesn't take Canada very seriously ... 'The Newsroom' is often considered the greatest show Canada has ever produced, but a U.S. network feels no need to fear unflattering comparisons: assuming they've heard of the show, they probably think most people in the States have not heard of it."[20]
Jeff Daniels was cast in the lead role in March 2011.[21] Alison Pill and Olivia Munn reportedly entered negotiations to star in April 2011.[22] The fictional executive producer role was initially offered to Marisa Tomei, but negotiations fell through. Tomei was replaced by Emily Mortimer in May 2011.[23] Sam Waterston also joined the project in May.[24] John Gallagher, Jr., Thomas Sadoski, Josh Pence, and Dev Patel were added to the cast in June 2011.[25][26]
New York magazine reported that Sorkin had planned for MSNBC host Chris Matthews and Andrew Breitbart to appear in a roundtable debate scene in the pilot. However, the idea was shot down by MSNBC purportedly because the network was displeased with the corporate culture portrayal of cable news and skewering of left-leaning media in the show's script.[27]Jesse Eisenberg, who had worked with Sorkin on the film The Social Network, has an uncredited vocal cameo as Eric Neal.[28]
The Newsroom set is located in Sunset Gower Studios, Hollywood, California.[29] Production began in the fall of 2011.[30] The schedule called for each episode – comprising a dialogue-dense script – to be filmed in nine days, as opposed to six to seven days for broadcast network TV series.[30]
Appearances
Edit
Characters
Locations
Sentient species
Marketing
Edit
Reception
Edit
Critical reaction to the episode has been mixed.[31][32] It has a score of 57 out of 100 based on 31 reviews on review aggregator Metacritic, indicating "mixed or average reviews".[33] Tim Goodman of The Hollywood Reporter writes that how viewers respond to the show "has everything to do with whether you like his style. Because ... Sorkin is always true to himself and doesn't try to cover his tendencies or be embarrassed by them."[34] Alessandra Stanley of The New York Times commented that "at its best ... The Newsroom has a wit, sophistication and manic energy.... But at its worst, the show chokes on its own sanctimony."[35] Maureen Ryan of The Huffington Post called the preview episodes "a dramatically inert, infuriating mess, one that wastes a fine cast to no demonstrable purpose, unless you consider giving Sorkin yet another platform in which to Set the People Straight is a worthwhile purpose."[36] Time James Poniewozik criticized the show for being "smug" and "intellectually self-serving," with "Aaron Sorkin writing one argument after another for himself to win."[37] Los Angeles Times critic Mary McNamara said the show's drama is "weighted too heavily toward sermonizing diatribes."[38]
Reviews by newscasters have been mixed as well. Jake Tapper of ABC News criticized Sorkin's partisanship: "they extol the Fourth Estate's democratic duty, but they believe that responsibility consists mostly of criticizing Republicans."[39] Dave Marash was not convinced that the show portrays the news industry accurately.[40] Former CBS Evening News anchor Dan Rather gave a favorable review, saying the show "has the potential to become a classic."[41]
References
Edit
External links
Edit
Ad blocker interference detected!
Wikia is a free-to-use site that makes money from advertising. We have a modified experience for viewers using ad blockers

Wikia is not accessible if you've made further modifications. Remove the custom ad blocker rule(s) and the page will load as expected.